If you are considering enjoying a few days of nature and the outdoors to get away from the stress of everyday life with your family, then now you can include your pet in this plan. Campings Tarragona now welcome pets and are waiting for you to come and have a perfect holiday!
When a campsite loves animals, you can tell. Coastal campsites, right on the beach, campsites in the mountains between wells, cliffs and green valleys. Different and varied, with numerous options to have a great holiday, with something in common: they are so ideal that they deserve holidays with our pets and, in addition, if we can relax and enjoy the natural atmosphere, it will definitely be a holiday to remember forever.
Apart from being fun, going camping is an experience that is within everyone's reach. And when we say everyone we also take into account our life companions: our dearly loved pets.
At Campings Tarragona, we have been working so that your experience with your pet is perfect. There are campsites that have created spaces for dogs, others which have a special swimming pool where they can cool down on the hottest days, and some even have parks only for them!
If you are getting excited just by thinking about it, imagine what it'll really be like!
Foto: Camping & Resort Sangulí Salou
The different campsites that offer the opportunity to stay with your pet on plots in the province of Tarragona are:
On pitches:
And those which allow you to stay in bungalows with your pet are:
But, this doesn't stop here. In the province of Tarragona, you will be able to enjoy the Mediterranean beaches, with crystal-clear waters and soft golden sand, where dogs are welcome.
300-metre-long and 15-metre wide unspoilt beach. It is the ideal place for those who love spending the day at the beach with their pets, open to all dogs and their owners.
Desembocadura de la Riera de Alforja in Cambrils
A perfect beach to enjoy the hottest days of summer in the heart of Cambrils. A safe place where dogs can play, run and swim in the relaxing waters of the Mediterranean.
Cala Bon Caponet in l'Ametlla de Mar
Small idyllic cove for enjoying an untouched environment with our pets. Fine sand and crystal-clear, shallow waters allow us to spend the day at the beach with our pets.
Bassa de l'Arena in the Delta del Ebro
Typical unspoilt beach in the Delta del Ebro. It stands out due to its great length, crystal-clear and shallow waters. It is an ideal place to enjoy a day at the beach with the family.
Punta del Riu in Mont-roig del Camp
With a length of 100 m and an average width of 80 m, fine sand and calm waters, it is a place where you can do all kinds of sports and where our pets are welcome.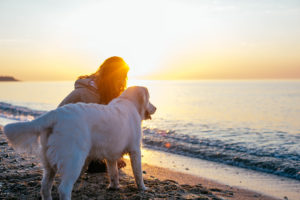 Come and enjoy your holiday with all the family and discover Campings Tarragona. Check out our website and fall in love with your ideal campsite for the perfect holiday.
Happy holidays, woof woof!