Summer is here and the sunny days are present. If you are lovers of family campsites and campsites with children, we present a plan that you can not refuse: the funniest water slides at Campings Tarragona!
Going to the pool will become the first place where the little ones will want to go right after breakfast. Playing, swimming, diving and making friends will be your allies during these days. You can make descents and enjoy the most amazing pools of family campsites in the province of Tarragona, and for the little ones at home, you will also find slides prepared for them safely, with water playgrounds and mini-slides.
Discover with us the family campsites with the funniest slides in the province of Tarragona!
At Camping Resort Sangulí Salou you can enjoy an experience in different thematic areas, adapted and prepared for the whole family. A perfect option to combat the heat of summer days.
In the middle of Salou, Camping la Siesta Resort are waiting for you between waterfalls and multiple pools. A perfect experience if you are looking for a campsite in Salou to enjoy the summer and the most refreshing pool activities of the summer.
Between animals and a pool with triple slide, Camping Els Prats Village it's a great option to enjoy the funniest family descents of the summer.
Stay at Camping Vendrell Platja it's always a good option. You will find an adventure pool for the little ones with all kinds of open and closed slides, where large and small you can have fun without spending heat.
At Roda de Barà, Camping Park Playa Bara are waiting fo you with a pool with four open slides. A perfect combination to live a unique holiday with the little ones.

Camping Stel this summer awaits you with a themed children's pool with small slides. And, for the bigger ones, you can find a semi-open slide to the main pool. An ideal complement to enjoy your camping days.
Fast, big and fun, this is the slide of the outdoor pool Camping Creixel Beach Resort. An indispensable to make the fastest and fun descents this summer.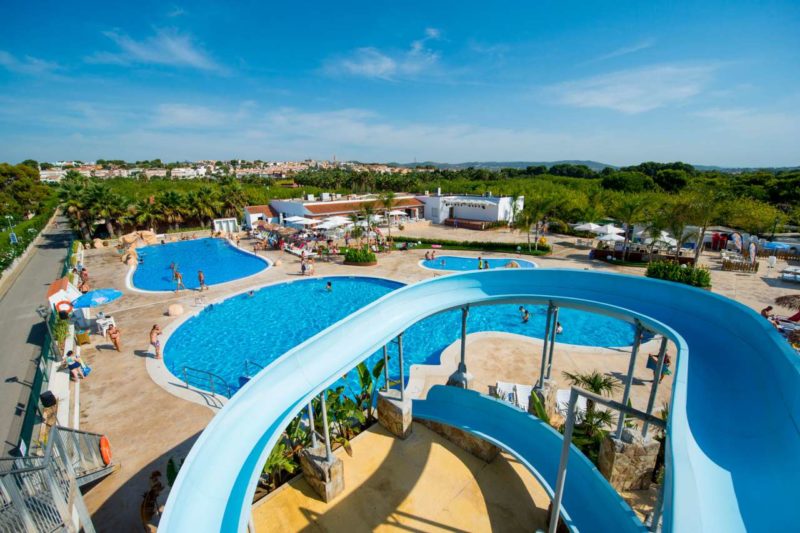 Enjoy the pool of Camping Tamarit Beach Resort
It is always a great idea, and also, with the complement of the slides ideal for children.

Stay at Camping Playa Montroig Resort It is always a fantastic option. Enjoy its 4 swimming pools equipped with waterfalls, 6 slides and the many water activities that are carried out. In addition, this season they have opened the new SPLASH area, a pool with more than 30 children's games for the little ones. If you are looking for a camping holiday with children, this is your campsite.
The pool of Camping la Pineda de Salou are waiting for you with an open slide perfect to make the most refreshing descents of the summer.
Enjoy a perfect holiday at top-notch campsites in our company. You enter our website and you find your family campsite among more than 50 options and, prepare to live moments of fun with the activities of Campings Tarragona!