Summer is ending but not our wishes to have some unique moments with our family and friends! One of the most "appetizing" opportunity for these next holidays is to discover the Camping Tarragona vicinity and especially its wines: a unique gastronomic and oenology experience.
Accommodated in one of Tarragona Campsites, we will search and discover all the secret places of our Protected Designation of Origin (D.O): Priorat, Conca de Barberà, Penedés, Terra Alta, Montsant or Tarragona. Yes, our region is one of the most important oenology points in the world!
The Priorat D.O is a Protected Designation of Origin located in the Costa Daurada inland. It is qualified by the maximal quality punctuation in the D.O system: The Qualified Designation of Origin (D.O.Q).
Beside the Priorat region, there is the Montsant D.O, a Protected Designation of Origin which shares its territory with Priorat. It can be defined as a new, modern and active D.O.
With a dry and temperate climate, grapevines are growing up in a terraced slate land, a soil which offers certain characteristics to the grape, generally Cariñena variety.
This region offers a lot of touristic attractions as the Carthusian Monastery of Cartoixa d'Escaladei, a monastery of the early 12th century. You can also discover the Montsant Natural Park and Prades Mountains, the footpath between Falset and Siurana…
The Priorat and Montsant region offers you an endless list of opportunities to enjoy perfect holidays!
Furthermore, we find the Penedès D.O, one of the richest and more diverse region of Europe, with an international production and projection. Its territory is made up of several little mounds with views to the sea, little valleys and charming rivers. The climate is temperate, warm and soft: a perfect region to produce white wine.
Moreover, you can visit the Santes Creus Royal Monastery which dates from 1160, one of the medieval treasures of Catalonia. You can also have a great time with your family in natural sites as the Dous, between cascades and natural wells…
Another important oenotouristic region is the Conca de Barberà D.O, in the Tarragona inland. A wine region where you can find historical sacred buildings as Poblet Abbey or buildings from the Order of the Knight Templars.
We can also observe a large variety of modernist cellars, called Wine Cathedrals, which are part of a unique cultural heritage.
This region takes advantage of a Mediterranean microclimate and it also receives a continental climate influence. The result is a notable day and night temperature difference.
In the south of Tarragona province, we find another Protected Designation of Origin, the Terra Alta D.O. This D.O is growing up in a spectacular natural landscape, between mountains and the incredible Ebre Valley. We can also find in this region a mix between a Mediterranean climate and a continental influence: it gives to the wine all its qualities. Terra Alta is nowadays working to situate its production among the more prestigious ones in the world.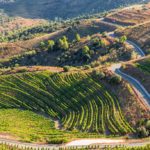 This region is also famous for its numerous modernist cellars, among others, the Pinell de Brai and Gandesa ones: two singular constructions that you cannot miss!
Lastly, we cannot close this list without naming the Tarragona D.O, located in the Camp de Tarragona and Ribera d'Ebre areas. It was already present at Roman era! It extends into inland from the Mediterranean Sea. The climate is warm and there are not extreme temperature changes.
Better than read this experience, you must live it! Book your campsite, choose between more than 50 options and discover in person our 6 Protected Designation of Origin wines!